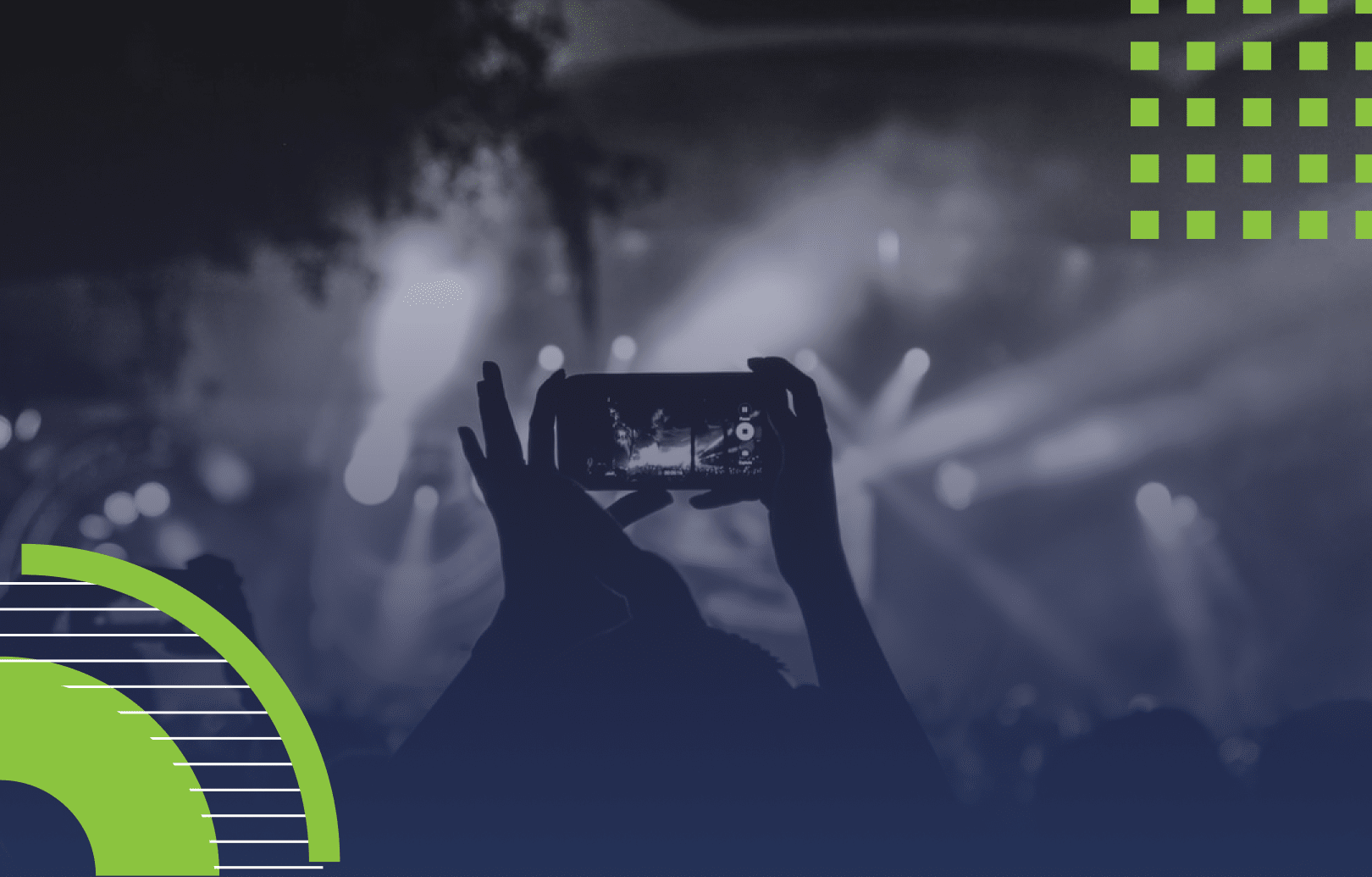 Imagine a concert hall full of people.
They're excited, happy, and impatient to enjoy the concert after spending so much time at home.
It was easy for those attendees to get tickets to get there, too. In fact, they spent only a minute choosing seats, buying tickets, and receiving them on their smartphones. Their devices even reminded them about the event with a push notification.
What made this smooth and engaging experience possible?
A dedicated event app.
With local events finally back on people's calendars, many entertainment venues are planning to create event apps to deliver such experiences to the public.
If a similar idea crossed your mind, here are some insights and tips to create an event app for your business.
In this post:
Deciding on the type of event app to create
Must-have event app features to improve user experience
Creating an event app: should you use app builders or custom development?
Custom event app success story: KKL Luzern
What Kind of an Event App Do I Need?
Let's decide on that point before we actually get to creating an event app. As someone interested in developing such an app for their venue, you need to know about the available options. They'll help you make the best choice.
So, here are the main types of event apps:
Local event apps. These apps are created by event venues to improve the attendee experience (key features include floor maps, event choice, QR ticket purchase, and checking-in).
Party planning apps. Party planners create such apps to simplify planning. They typically include features like buying list, notes, idea center, guest list, group chats, and invitation management tools.
Conference event apps. These apps are made for business organizations to improve the experience of attendees. They offer such features for events as digital agenda, speaker and attendee profiles, chat, calendar, and others.
Social event planning apps. Made for event planners, enterprises, and event venues, these apps offer time-saving features like calculators of venue capacity, staffing, seating charts, guest registration, check-in management, and even attendee polls.
In this article, we'll focus majorly on local and social event planning apps. These are most useful for concert halls, conference centers, business centers, and other event venues to offer a complete suite of features for a proper event and attendee management.
The first step to creating a great event app is to define its features. This way of planning ensures that your app will have all the features people need to interact with your business.
Must-Have Features of Event Planning Apps
Event apps that add value and improve the experience of attendees should provide a set of specific features. This set can differ depending on the venue, but some features should be useful to both venues and attendees.
Event calendar
Your event app should have a calendar to let users know about past, current, and upcoming events at your venue. This feature offers a quick way to share even information people could use to choose an event to attend.
Content feed
A content feed is a list of news and updates regarding your venue and events. This feature is useful for large venues like concert halls to share information about anniversaries, new equipment, important guests, guided tours, parking, jobs, and past event details.
Registration (user account)
Getting an account in your event app means personalizing the user's experience. This means they'll be able to view tickets, events they attended, get direct private messages from the venue, get personalized offers, and add their data for faster ticket purchasing.
Seat choice and reservation
An event app should reproduce your venue's seating chart into a selectable seat map. This feature will allow users to view info and choose their desired seats by tapping on them. Done right, seat choice and reservation should let attendees pick and reserve seats in a matter of seconds.
Ticket reservation and purchase
This feature turns your event app into a source of revenue. Google says that buying on mobile is important for 59% of smartphone users, so the payment feature is essential for monetizing your event app.
Multiple payment options
While paying, users should have a choice of different payment options. This functionality will make buying tickets from smartphones easier and faster. Consider adding digital wallets like Android Pay and PayPal (44% of online customers prefer them) and credit cards.
Check-in
Event check-in features make guest management easier. By letting you know about their presence, guests allow you to see attendance information in real-time and adjust your event management.
Geolocation
Give attendees event details with directions and maps so they can find your venue easier. This feature integrates your app with Google Maps, so the navigation tips it gives will be precise and helpful for users.
Venue map
Have a large venue? Help your attendees to find their seats with indoor navigation features in your event app. Many apps have maps with pointers, arrows, and other navigation tips to ensure quick navigation.
Push notifications
In-app push notifications are a direct way to connect with attendees via an event app. You can share event details, remind attendees about the event, share marketing messages, or ask them for some feedback.
Chatbot or live chat
A live chat or a chatbot can offer event attendees a convenient way to get info. These features have proven useful in ecommerce, with 67% of B2C and 66% of B2B companies using either live chat or chatbots for customer support.
Creating an Event App: App Builders vs Custom Development
You have two options for creating an event app: using an app builder or custom mobile app development.
The first option means using online software to make event apps without coding. The second one involves having developers create a custom app according to specific requirements.
Here's what you need to know about both.
Pros of app builders
Compatibility. Event apps made with app builders work on the most common mobile platforms (Android and iOS).
Decent functionality. Apps can have an essential range of features (tickets, reminders, attendance management, etc.)
Quick app creation process. App builders often have drag-and-drop interfaces to allow beginners to make event apps.
Cons of app builders
Risk of DIY mistakes. A person lacking app development experience can easily miss important features while creating an event app.
Limited app functionality. App builders offer a very limited functionality that often lacks useful features like check-ins, geolocations, live chat, and others.
Limited design customization options. Examples include limited color schemes, no branding elements, and overly simple design solutions.
Pros of custom event app development
Rich app functionality. You can add as many features as you prefer to make your app useful, fast, and converting.
Gamification features. In-app polls, quizzes, or surveys — you can add these to a custom app, which is not always possible with app builders.
Unique UX and design. App developers can create any design to make an event app aligned with your venue's style, image, or website's design.
More payment options. Custom app development for businesses allows to integrate more payment methods, making it a better option for online payments.
Greater payment security. If you'd like to maximize the security of online payments made via your event app, custom development is a better option
Better monetization opportunities. You can add more ticket types, sell additional services, and include other ways to increase profits.
Powerful data collection and processing. Custom event apps will provide you with more opportunities to gather different attendee data and feedback.
Cons of custom event app development
Takes more time. App developers need a lot more time to create custom functionality and designs, which is longer compared to app builders.
Higher cost. The cost of a powerful custom event app is higher because of the work involved to create a unique user experience and develop more monetization options.
If you need expert advice on choosing:
App builders are good enough for very simple apps. If you're looking to create an event app for your business that sells, choose custom development.
Speaking of choices—
KKL Luzern, a Switzerland-based concert venue, developed a custom web app to improve the experience of its attendees. The next section has details on why it was the best decision.
Custom Event Web App Success Story: KKL Luzern
KKL Luzern is a unique concert hall located lakeside in the city of Lucerne, Switzerland.
One of the venue's goals was to establish a strong web presence, which included a web app. That's why KKL Luzern chose Fruitful Code to create a web application to help their visitors get info about events, book seats, and buy tickets online.
The result was an event web app that allowed KKL Luzern to build a strong web presence and improve client experience, even during the pandemic.
Custom functionality delivered by Fruitful Code allowed visitors to:
Search for unoccupied seats and book them
Purchase tickets using multiple popular payment methods
Visit locations inside the venue virtually see views from their chosen seats
Get useful information and assistance with the current safety requirements in the venue.
Other must-haves of custom app development like speed optimization and user-friendly UX were also taken care of. That's why KKL Luzern's success story is an example of why custom app development is a better option for large entertainment venues.
Create an Event App: Final Thoughts
Using an event app can be instrumental in improving operations, customer experience, and revenues for your business. That's why entertainment venues across the world are partnering with custom web development services to create unique and functional apps.
If you'd like to learn more about event app development for your venue, feel free to get in touch with Fruitful Code's experts. We're ready to give you a free consultation and help you decide what kind of app could help improve your business.
Tell us about your project
Write us about your idea or project and we will respond with a draft offer to start a discussion
Get our tips straight to your inbox, and get best posts on your email